Jake Morris is a CVA Kettle Falls High School student and a member of the Seattle Sounders FC Academy Under 18 (U-18) team as a Defender, Left Back. The Sounders FC Academy is a professional soccer club that competes at the highest level in the USA and as such can offer the following: A chance to earn a professional contract and sign for Seattle Sounders FC 1st Team. A chance to earn a professional contract and sign for the Seattle Sounders FC S2 Team. Coaching, guidance, evaluation and direct contact with Sounders FC 1st Team/S2 coaches. Opportunities to training with the Seattle Sounders FC 1st team. Opportunities to train and play in USL Pro League for S2. Play in games at CenturyLink Stadium and compete in exclusive MLS events. Invitations to top level international tournaments with some of the world's best clubs.
Jake has been a member of the U-19 and U-20 men's national team since signing with the Sounders. Jake has international experience at the U-19 level. This photograph is from the 2015 U-20 team which lost to the eventual champion, Serbia after falling to a penalty kick shootout. Jake also participated in the 2016 U-19 Stevan Vilotic Tournament. Jake is #15, front row, lower left.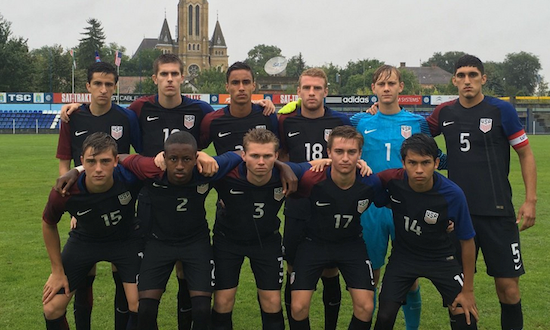 The US U-18 national team called upon Jake Morris, Trey Muse, and Stirling Russell from Washington State. The U-18 team will be preparing for the Slovakia Cup in April.
As a CVA student, Jake has the flexibility to complete his high school education and still compete athletically at a very high level. Congratulations, Jake!