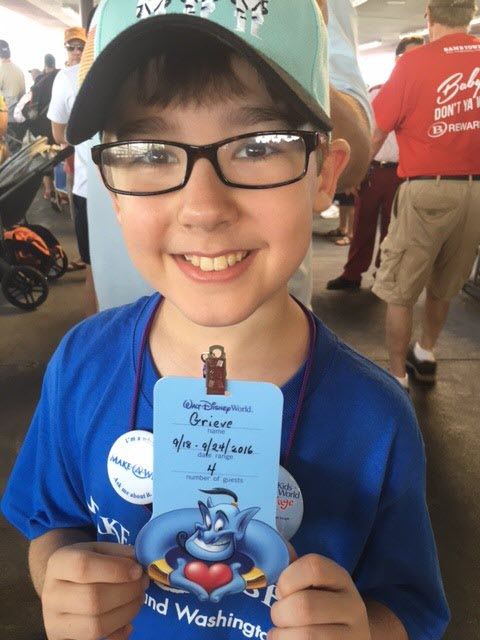 Logan Grieve is a 10-year old 4th grade student who is in his 3rd year with CVA. Logan loves history, science, reading The Hardy Boys, Star Wars, Legos, classic cars, and all things Disney!
Logan was diagnosed with a blood disorder called Immune Thrombocytopenia Purpura (ITP) 10 days after he started kindergarten. Logan and his family weathered hospital appointments and blood draws nearly every day for three months before his parents withdrew him from his school and began home schooling him through a program in their local school district.
After about two years they found CVA and determined this program was a better fit for their family. Logan is in the hospital at least once a week, and the flexible schedule of CVA allows the family to take a day off in the middle of the week and do school on a Saturday instead.
Last summer Logan was on a form of chemotherapy to try and help his body "fix itself" since there is no cure for ITP and his hematologist contacted the Make-A-Wish Foundation about helping grant Logan's wish to go to Walt Disney World and LEGOLAND. His wish came true and the entire family went on an amazing vacation to Orlando, FL. Logan chose to stay at Give Kids The World Village. Logan was really excited to go to the EPCOT theme park, visit the Star Tours Adventure at Disney's Hollywood Studios, and to meet Baymax!
After the family arrived home from Logan's trip, they were contacted by the Make-A-Wish foundation asking Logan to create artwork about his trip. He created a rocket ship on canvas out of tissue paper and his artwork was chosen to be auctioned at the Wish Night Gala and Auction on March 4th in Seattle. Logan was asked help at the auction and his artwork was purchased for $8,000! Logan's artwork made it possible for another child to have his or her wish granted!
Logan also enjoys helping at Mary Bridge Children's Hospital whenever they need a volunteer to participate in "New Employee" videos or to work at fundraisers like Festival of Trees or car shows benefiting kids like him.
Way to go, Logan!