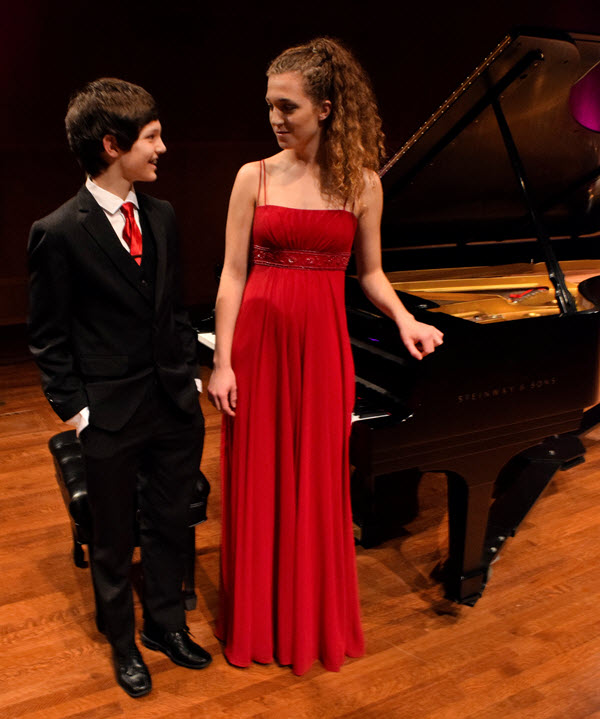 A BIG congratulations to Adrian and Mya King for being awarded 2nd Place in the piano duet division at the Music Teachers' National Association (MTNA) national level competition in Baltimore, Maryland on March 19th! Adrian has been a long-time student at CVA-Raymond and he's now in the 8th grade. His sister, Mya, attended CVA for several years and is currently a senior at Insight School of Washington. The two started playing piano when they were in kindergarten and have been performing duets seriously for about 5 years. They have performed in numerous competitions in solo piano and duet divisions and have won many awards over the years.
To get to the MTNA nationals this year, Adrian and Mya first became state representatives in the duet division at the Washington State MTNA competition last November in Ellensburg. From there they moved on to the Northwest Divisional MTNA competition this past January in Cheney, WA. They were awarded First Place at the divisional competition which qualified them for nationals. To get to their high level of achievement, Adrian and Mya worked together to practice their repertoire of five pieces (by composers J.S. Bach, Felix Mendelssohn, Gabriel Faure, Aaron Copland, and Igor Stravinsky) over the course of many months. During the weeks and days before competitions they practiced for up to 6 hours a day! Adrian and Mya are students of Dr. Peter Mack in Seattle. Both plan to pursue piano studies in college and want to make music a lifelong passion and career.
Mya has recently been accepted into Indiana University's Jacob School of Music for Fall 2017.
Congratulations, Mya!