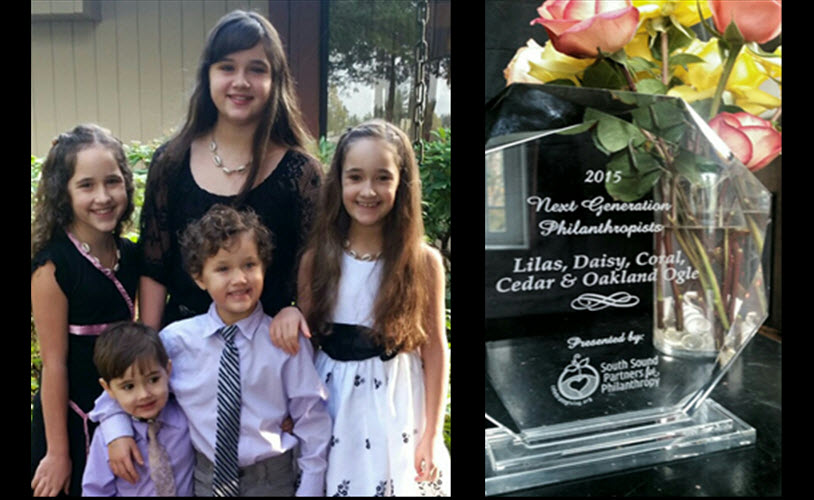 Columbia Virtual Academy students Lilas, Daisy, Coral and Cedar Ogle have been selected to receive the "2015 Next Generation Philanthropist Award" from the South Sound Partners for Philanthropy of Tumwater. The Ogle children were recognized at the 15th Annual Leadership in Philanthropy Awards Luncheon on November 6th in Olympia for their many contributions of time, talent and resources to the South Sound community.
The Ogle children's CVA teacher, Babs Heath, shared that they were nominated for the award by representatives of the Family Support Center of South Sound for their volunteerism at the Family Support Shelter. She explained that their association with the shelter began several years ago when Lilas, now a 7th grade student in CVA, was seeking a community service project. Lilas wanted to create a Birthday Closet, a place where a parent or child staying in the shelter could select a gift for their special day. The Birthday Closet project has since become quite popular, stimulating an annual Birthday Party event at the Hands On Children's Museum in Olympia, a time when people come and bring a gift for the shelter's closet.
Philanthropy seems to be an Ogle family affair. A family tradition of handing out warm sandwiches on Thanksgiving began when Lilas was two years old. Sister Daisy, a 5th grade student, makes and gives away "dream blankets," a cozy, burial wrap for pets that have passed away. The family is also involved in making Seahawks gear to be given out at the shelter. The Ogle children were recently featured on a local radio station program and spoke about their volunteer efforts.