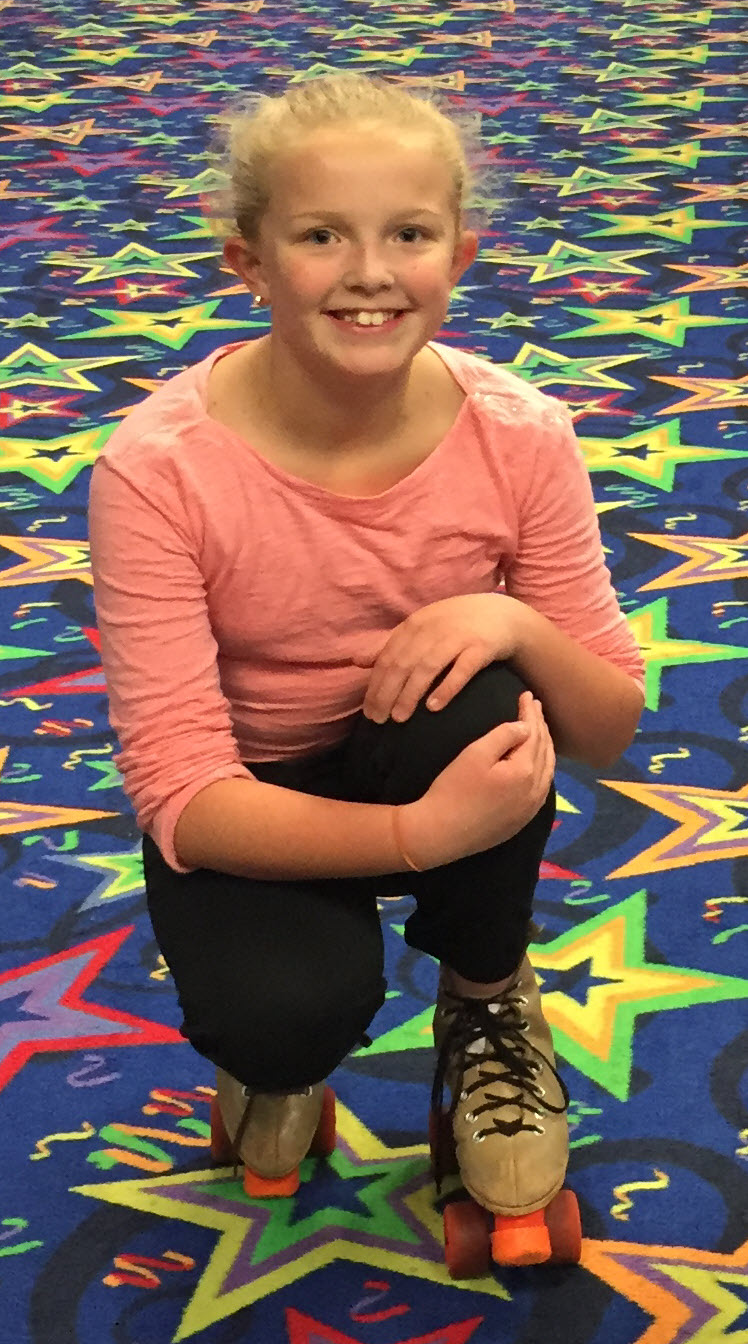 Abigail Ball
6th grade CVA student
Flash, flash! The lights popped, I was so excited to start!
As I took it in, mom paid for the skates, I got some tan ones. When I discovered that I could barely skate on the carpet I assumed that the wood would prove to be interesting!
Believe me, it was! I could not stay on my skates for two seconds. As I "skated" around the rink, I was really getting the hang of it (while hugging the wall!). As I started to enjoy myself I noticed that we were doing a Limbo game! As I thought that I might like that, I fell, again, then I reconsidered: "how would I be, crouching down like that and-" I fell, again.
So limbo was out, I now understood how roller skates worked. Then the lights went out, and I fell down again.
The lights out wasn't too different from the lights on, except for the fact that my fall rate went way up, and that the number of people I crashed into doubled.
HAVE YOU EVER THOUGHT SOMETHING WAS SUPER HARD, AND THEN SOME TIME PASSES AND YOU ARE A PRO AT IT? THIS SURE FELT LIKE IT.
When they announced over the loud speaker that the races would start, I wondered: "what if I race-" *thud* I had fallen…again.
But I entered the race for my age group, there was ages 4-, 5, 6, 7, 8, 9, 10, 11, 12, 13, 14, 15+. I had entered age nine.
The race was another story entirely, I had fallen on my way to the number nine. So when the whistle blew I was standing up, and then I kept falling down, stand up, fall down, stand up, fall down, stand up (fall down).
When the whistle (finally) blew, I tried to start and…wait for it….FELL DOWN!!! As I tried to start, the other kids were halfway around the rink and building up speed, the situation looked hopeless for me this is how the ENTIRE lap went: push, fall, get up, push, fall, get up, push, fall, get up, push, fall, get up, I really wanted to just get off the rink and really sit down. When I had cooled off and wanted to skate some more, a song came on and I just started to skate and I finally got the hang of it.
When you feel like giving up, don't, embrace it!