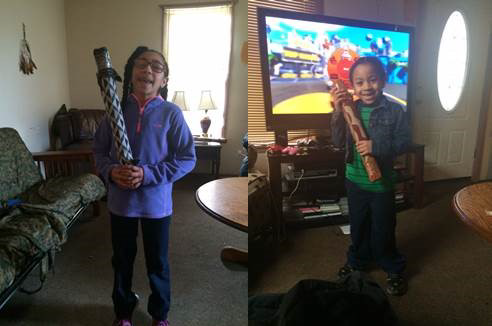 The Irving family is from Aberdeen, WA and they don't mind rain. Aberdeen receives 84 inches of rain per year and the US average is 37 inches. As a project for their CVA art classes, the family decided it would be fun to build rainsticks. The rainstick is an instrument that mimics the sound of rain. Rainsticks are traditionally made from dead cactus tubes with cactus spines hammered to the inside and filled with tiny pebbles. 
CVA students, Princess Raybella and Prince Raymond Irving built their rainsticks with materials from home. They used cardboard tubes, fish tank pebbles, hammer and nails and some unused fabric. With a little planning, imagination, and hard work they built their first rainsticks! They sound good and look good too.
Many cultures still practice traditional Rainstick rituals to stay connected to their heritage or to hope for rain. As for the Irving students, they intend to use them for fun, and during the summer they might even shake them to bring more rain to their community.
Princess Raybella commented that, "Grandma and Mr. Coates are great teachers and CVA has given me a chance to express myself." Prince Raymond said, "I'm glad that Mr. Coates and Grandma and Arby are letting me do this project. It reminds me of the rain!"
Here are some directions to build your own rainstick:  http://climatekids.nasa.gov/rainstick/