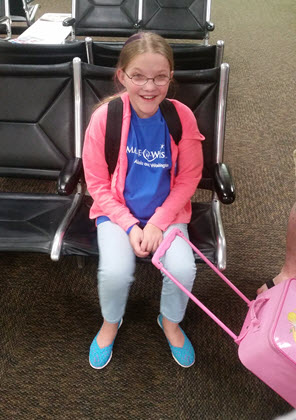 Brenna Baker is a 10-year-old CVA student with Cystic Fibrosis (CF). CF is a genetic disease that affects nearly all organs in the body by causing them to "gum up" rather than function normally. Brenna's most affected organs are her lungs and digestive system. Because of this, she spends several hours each day doing breathing treatments to keep her airway clear and also takes medications to help her body digest food. Despite the seriousness of her disease, Brenna is amazingly healthy and her lung function is at 108% (which is 8% above what is expected for a child her age WITHOUT lung disease). Brenna plays soccer and is going on her third year on the cross country team. What many would see as a disability, Brenna sees as an opportunity to bring joy to those around her. Brenna's mom credits a big heart, positive attitude and a close relationship with God as the main reasons for Brenna's joy. 
Brenna recently experienced her first major lung infection and her lung function went down to 85%. For nearly nine weeks, Brenna was on high-dosage antibiotics and 4½ hour breathing treatments each day. The family worked with Brenna's dietitian to minimize the effects of antibiotics on the rest of her body. Probiotics in pill form were not effective, so they decided to try something different. They started brewing kombucha tea (a fermented beverage that boosts the immune and digestive systems and provides good bacteria and probiotics in a very usable form) and that made a HUGE difference. The symptoms associated with antibiotics typically start after a week of treatment and the kombucha tea delayed these symptoms for about seven weeks! Brenna's mom is happy to report that her lungs are now clear and her function is back up to 104%!
Brenna's body responded so well to kombucha that she decided she should enthusiastically share her results with other people. The family now has multiple fermentation crocks in their living room and Brenna has seven weekly customers buying her kombucha tea! She developed her own logo, company motto ("above the bar of goodness") and she is working on her mission statement. Brenna plans to add several flavors and options to her original tea recipe because she wants to make healthy, gut appealing, appetizing, and affordable options for her customers. A local health consultant started buying kombucha from Brenna and plans to feature her on her website as soon as the organic tea option is in production.
Last June, Brenna was chosen by the Make-A-Wish Foundation to receive a wish. She chose to go on a Disney Cruise to the Bahamas so she could swim with dolphins. After almost a year of planning and waiting, she recently realized her dream. There was a slight snag in her adventure though. As Brenna was boarding the plane in Seattle on her way to Orlando, she tripped on some uneven flooring and fell hard. They continued on, but after much pain and ice, it became obvious that her injury was worse than a simple twisted ankle. They were met at the gate in Orlando with a wheelchair and on to baggage claim where an ambulance was waiting. A few hours later they were told that Brenna had a fracture. Her characteristic joy took a significant dip when there was talk that she would need a cast, and Make-A-Wish was planning to send them home. The doctor put her in a walking cast with crutches and the family decided to wait until the next day to see how Brenna felt before making any decisions. 
The next morning Brenna put on her "Born To Sparkle" t-shirt, and declared "This is going to be the Best Day EVER!!" Brenna's attitude through the whole cruise was amazing. She was happy, upbeat and JOYFUL. Bicycle riding was the only item on the agenda that was cancelled because there were no vendors on the island with a pull-behind trailer. Brenna went sea kayaking through mangrove forests where they saw sea turtles and an eight foot nurse shark. She went snorkeling with stingrays, swimming with dolphins, and exploring the aquarium. She saw live Disney shows, blew bubbles off the back of the cruise ship, and participated in all kinds of kids' activities while onboard. Brenna made friends with another Make-A-Wish recipient who has leukemia. Both girls were ecstatic to find they have so many things in common and they plan to keep in touch. 
Shortly before Brenna left on her dream cruise, she took the last assessment for the highly capable program and she scored in the 99th percentile! She has consistently scored at that level on tests that she has taken over the past few years and it was a joy learning that she was accepted into the highly capable program. Brenna is registered as a 6th grader and most of her classes are at the middle school and high school level. Brenna is working on Algebra this year for high school credit, as well as an Apologia science course at home that is also high school level. Brenna has already completed middle school biology, chemistry and physics courses through home-based co-ops.
Brenna loves to read and her favorite genre is fantasy. Harry Potter, Peter and the Starcatchers, Narnia, and the Kingdom Keepers, are some of her favorites. Brenna can read about 75 pages an hour and is able to recall almost every detail of what she read. She enjoys logic puzzles and picture puzzles like Link-a-Pix, but also loves to garden and build fairy houses. Brenna is a wonderful mix of silly little girl and surprising intellect who keeps her family laughing and surprised every day!