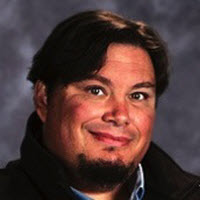 Jason Harrison, a newly hired CVA teacher grew up on Mountain View Road in Chewelah, attended Valley School from 1st through 8th grade, and graduated from Jenkins High School. He has been a CVA and Valley School substitute Teacher for two years.
Jason earned a Bachelor Degree in Environmental Studies and Outdoor Education with Huxley College of Environmental Science at Western Washington University. Later he completed a Post Bachelor Degree in Education and earned a WA Teaching Certificate at Eastern Washington University.
Including an Associated Arts Degree from Peninsula College, Jason also has a multiplicity of trainings in the Forest and Park Service Field, including, Wildlife Biology, Marine Biology, Soil Sciences, Terrestrial/Cave/Glacier/Aquatic Ecology, Geology, Search and Rescue, Maritime and Wilderness Survival and Law Enforcement.     
Jason has taught in New Zealand with the Department of Conservation, Lindblad Special Expeditions Marine Eco-Tour Company operating in the Sea of Cortez, Mount St. Helens, Mendenhall Glacier in Alaska, Portage Glacier in Alaska, and Grand Teton National Park in Wyoming as an education Ranger.
"I love the staff at Columbia Virtual Academy and am excited to learn from and be among such wonderful people," he endearingly announced, adding, "I look forward to working with my new families and helping my students develop a love for learning."
Jason is not shy to say, "I have a wonderful wife that has also worked for CVA and continues to work for the Valley School District.  My best friend is my daughter, Tigerlily Joy Harrison.  We spend time at Browns Lake playing in the sand and swimming, and enjoy camping and hiking.  Our family loves music and dancing and we go to outdoor concerts regularly." he adds.