Although the CVA Language Arts literature book list is specifically intended to support students participating in the CVA Language Arts curriculum sets, these titles are available for every student. Students using grades 3-8 CVA Language Arts sets will choose at least two books from the list below to read and complete the corresponding Novel Unit Student Pack during the school year (not every book has an accompanying Novel Unit study guide). Novel Unit Student Packs help students build "close reading" skills through robust activities such as character and literary analysis, writing, critical thinking and comprehension activities and much more.
The reading grade level is posted with each book. Note that reading level and content level do not always correspond. For example, the version of The Boy in the Striped Pajamas that CVA uses is a reading level of 5.8, but content and interest is considered high school level. Parents are responsible for reviewing book content and determining the appropriateness for their child. Novel Unit study guides and level of reading also do not always correlate. Your CVA teacher can help with the selection of "just right" books as well as modifying lessons and activities in the study guides to meet individual student needs.
This limited library consists of titles from Moving Beyond the Page and selected titles of acclaimed youth literature. CVA has attempted to provide a wide variety of books of exceptional quality, however, this is by no means an exhaustive list. Students are strongly encouraged to search out their own books of interest from a variety of genres and engage in significant independent reading beyond what CVA requires.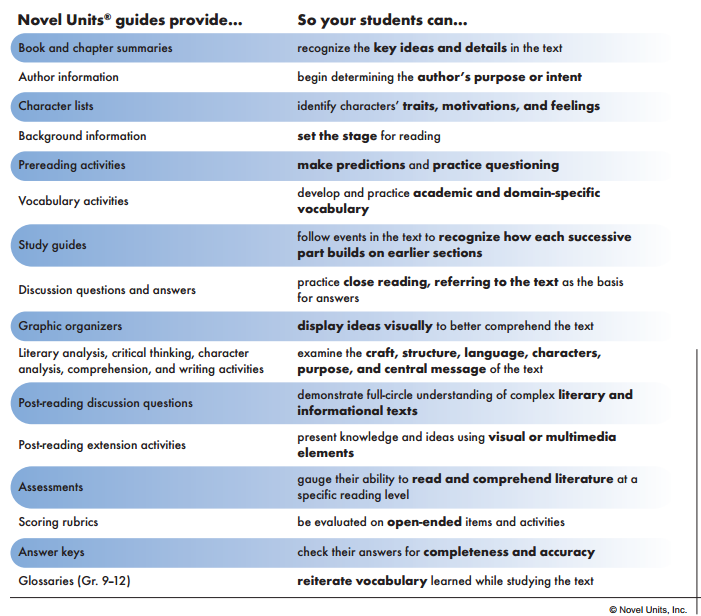 TITLE
READING

LEVEL

GRADE

LEVEL

50 American Heroes
7.4
--
A House of Tailors
4.9
--
A Midsummer Night's Dream
9.7
9-12
A Midsummer Night's Dream Student Pack
--
9-12
A Single Shard
6.6
--
A Single Shard Student Pack
--
5-6
A Tale Of Two Cities
9.7
9-12
A Tale Of Two Cities Student Pack
--
9-12
A Wrinkle in Time
4.7
--
A Wrinkle in Time Student Pack
--
7-8
Abel's Island
5.9
--
Across America on an Emigrant Train
7.1
--
Across Five Aprils
6.6
--
Across Five Aprils Student Pack
--
7-8
All Creatures Great and Small
6.8
--
American Tall Tales
5.4
--
Amelia Bedelia (I Can Read Level 2)
2.5
K-4
Amelia Bedelia and the Baby (ICR Lvl 2)
2.0
K-3
Amelia Bedelia and the Cat (I Can Read Level 2)
1.9
K-4
Among the Hidden
4.8
--
Among the Hidden Student Pack
--
7-8
Animal Farm
9.0
9-12
Animal Farm Student Pack
--
9-12
Anne of Green Gables
5.0
--
Banner in the Sky
5.1
--
Baseball in April and Other Stories
5.1
--
Baseball in April and Other Stories Student Pack
--
5-6
Because of Winn-Dixie
3.9
--
Because of Winn-Dixie Student Pack
--
5-6
Ben and Me: A New and Astonishing Life of Benjamin Franklin as Written by His Good Mouse Amos
4.5
--
Boxcar Children
3.3
2-4
The Boy in the Striped Pajamas
5.8
--
The Boy in the Striped Pajamas Student Pack
--
7-8
Bridge to Terabithia
4.6
--
Bridge to Terabithia Student Pack
--
5-6
Bud, Not Buddy
5.0
--
Bud, Not Buddy Student Pack
--
5-6
Call It Courage
5.8
--
Call It Courage Student Pack
--
7-8
Call of the Wild
8.0
--
Charlotte in Giverny
4.6
--
Charlotte's Web
4.4
--
Charlotte's Web Student Pack
--
3-4
Cut from the Same Cloth, American Women of Myth, Legend, and Tall Tale
6.2
--
Dear Mr. Hemshaw
4.9
--
Dear Mr. Hemshaw Student Pack
--
5-6
Dogsong
5.2
--
Ender's Game
5.5
--
Enrique's Journey
5.6
--
Eragon
5.6
--
Eragon Student Pack
--
7-8
Esperanza Rising
5.5
--
Esperanza Rising Student Pack
--
7-8
Fancy Nancy: Best Reading Buddies (I Can Read! Level 1)
1.6
K-3
Fancy Nancy: Its Backward Day (I Can Read! Level 1)
1.5
K-3
Fly Guy Presents: Sharks
1.9
1-5
Fly Guy #13: Fly Guy and the Frankenfly
1.5
K-3
Flat Stanley Collection Box set
3.9
1-5
Frankenstein
9.0
9-12
Frankenstein Student Pack
--
9-12
Freak the Mighty
5.5
--
Freak the Mighty Student Pack
--
7-8
Frindle
5.4
--
Frindle Student Pack
--
3-4
Gifted Hands: The Ben Carson Story
6.5
--
Great Expectations
9.0
9-12
Great Expectations Student Pack
--
9-12
Hatchet
5.7
--
Hatchet Student Pack
--
7-8
Henry and Mudge and the Starry Night
2.2
Pre K-3
Henry and Mudge and Tall Tree House (RTR L2)
2.3
K-2
The Hobbit
6.6
--
The Hobbit Student Pack
--
7-8
Hiroshima
8.4
--
Holes
4.6
--
Holes Student Pack
--
7-8
I Am Nujood, Age 10 and Divorced
6.2
--
Iggie's House
3.5
--
In the Time of Butterflies
5.8
--
In the Year of the Boar and Jackie Robinson
3.8
--
In the Year of the Boar and Jackie Robinson Student Pack
--
5-6
Incidents in the Life of a Slave Girl
7.1
--
Island of the Blue Dolphins
5.4
--
Island of the Blue Dolphins Student Pack
--
5-6
Jackie Robinson: Strong Inside and Out
5.6
--
Jane Eyre
7.9
--
Jane Eyre Student Pack
--
9-12
Jeremy Thatcher, Dragon Hatcher
4.9
--
Jeremy Thatcher, Dragon Hatcher Student Pack
--
5-6
Junie B. Jones smells something fishy
2.6
K-3
Judy Moody-Triple pet trouble
2.8
K-3
Knight at Dawn (MTH #2)
2.8
K-3
Lincoln: A Photobiography
7.7
--
Lions of Little Rock
4.1
--
Little House in the Big Woods
5.3
--
Little House in the Big Woods Student Pack
--
3-4
Little Women
7.4
--
Little Women Student Pack
--
7-8
Maniac Magee
4.7
--
Maniac Magee Student Pack
5.6
--
Matilda
5.0
--
Midnight on the Moon (MTH # 8)
2.8
K-3
Morning Girl
4.9
--
My Side of the Mountain
5.2
--
My Side of the Mountain Student Pack
--
7-8
Now is the Time for Running
4.3
--
Number the Stars
4.5
--
Number the Stars Student Pack
--
5-6
Of Beetles and Angels: A Boy's Remarkable Journey from a Refugee Camp to Harvard
5.9
--
Of Mice and Men
4.5
--
Okay for Now
4.9
--
Old Yeller
5.0
--
Out of the Dust
5.3
--
Out of the Dust Student Pack
--
7-8
Pedro's Journal: A Voyage with Christopher Columbus
5.8
--
Pedro's Journal Student Pack
--
3-4
Pirates Past Noon (MTH #4)
2.8
1-4
Poppy
4.5
--
Poppy Student Pack
--
5-6
Pride And Prejudice
11.3
9-12
Pride And Prejudice Student Pack
--
9-12
Ramona Quimby, Age 8
5.6
--
Ramona Quimby, Age 8 Student Pack
--
3-4
Rebecca
6.8
--
Roll of Thunder, Hear My Cry
5.7
--
Roll of Thunder, Hear My Cry Student Pack
--
5-6
Romeo And Juliet
9.0
9-12
Romeo And Juliet Student Pack
--
9-12
Sarah, Plain and Tall
3.4
--
Sarah, Plain and Tall Student Pack
--
3-4
Schooled
4.9
--
Sherlock Holmes - The Hound of the Baskervilles
8.3
--
Shiloh
4.4
--
Shiloh Student Pack
--
5-6
Sideways Stories from Wayside School
3.3
--
Sideways Stories from Wayside School Student Pack
--
3-4
Sing Down the Moon
4.9
--
Stone Fox
4.0
--
Stone Fox Student Pack
--
3-4
Storm Runners: Book 1
4.5
--
Summer of the Monkeys
4.8
--
Summer of the Monkeys Student Pack
--
5-6
Tasting the Sky: Palestinian Childhood
5.8
--
The Adventures of Tom Sawyer
8.1
--
The Adventures of Tom Sawyer Student Pack
--
7-8
The Ballad of Lucy Whipple
5.8
--
The Ballad of Lucy Whipple Student Pack
--
5-6
The Bean Trees
5.6
--
The BFG
4.8
--
The Boy in the Striped Pajamas
5.8
--
The Cay
5.3
--
The Cay Student Pack
--
7-8
The City of Ember
5.0
--
The City of Ember Student Pack
--
5-6
The Diary of a Young Girl
6.5
--
The Diary of a Young Girl Student Pack
--
7-8
The Door in the Wall
6.2
--
The Door in the Wall Student Pack
--
5-6
The Family Under the Bridge
4.7
--
The Giver
5.7
--
The Giver Student Pack
--
7-8
The Great Gatsby
7.3
--
The Hobbit
6.6
--
The Hobbit Student Pack
--
7-8
The Homework Machine
4.8
--
The Invention of Hugo Cabret
5.1
--
The Invention of Hugo Cabret Student Pack
--
7-8
The Kid In The Red Jacket
3.9
--
The Lion, The Witch, and The Wardrobe
4.9
--
The Lion, The Witch, and The Wardrobe Student Pack
--
3-4
The Magician's Nephew
5.4
--
The Master Puppeteer
6.5
--
The Mouse And The Motorcycle
5.1
--
The Mouse And The Motorcycle Student Pack
--
3-4
The Namesake
7.2
--
The Outsiders
4.7
--
The Pearl
5.4
--
The Pearl Student Pack
--
7-8
The Phantom Tollbooth
5.4
--
The Phantom Tollbooth Student Pack
--
5-6
The Red Umbrella
3.8
--
The Secret Garden
6.8
--
The Secret Garden Student Pack
--
5-6
The Sign of the Beaver
4.9
--
The True Confessions of Charlotte Doyle
6.9
--
The True Confessions of Charlotte Doyle Student Pack
--
5-6
The View from Saturday
5.9
--
The View from Saturday Student Pack
--
5-6
The Wednesday Wars
5.9
--
The Whipping Boy
3.9
--
The Whipping Boy Student Packet
--
3-4
The Willoughbys
5.2
3-6
The Witch of Blackbird Pond
5.7
--
The Witch of Blackbird Pond Student Pack
--
7-8
The Wonderful Wizard of Oz
5.0
--
The Yearling
5.0
--
Theras and His Town
5.0
--
Thomas Edison: The Great Inventor
4.0
--
Tornado (Trophy Chapter Books)
3.2
--
Treasure Island
5.0
--
Trumpet of the Swan
5.4
3-6
Tuck Everlasting
5.0
--
Tuck Everlasting Student Pack
--
5-6
Watership Down
7.4
--
Who Was Helen Keller?
4.1
--